NEET is really the sole medical entrance exam required for admission to great medical colleges if a candidate want to study medical degrees such as BDS, MBBS, and AYUSH. The NEET entrance test is the most significant exam for students who wish to pursue a career in medicine, requiring years of preparation and ultimate devotion.
Almost all coaching centres offers a variety of scholarships to NEET aspirants, on the basis of NEET Scholarship Test 2022 or on the basis of marks obtained in previous exams, in order to help them live their dream lives. Because NEET coaching is somewhat costly, and an MBBS degree can further strain the parent's finances and because of this, these scholarships were created to sponsor students so that their actual potential is not overlooked due to a lack of funds. Before giving a scholarship, these programmes also consider a student's NEET marks, class 10th and class 12th grades, and family income. These scholarships were founded with the understanding that not every student come from financially stable households, yet this should not limit their potential. A few of such scholarships are offered by Amaze Classes are as under: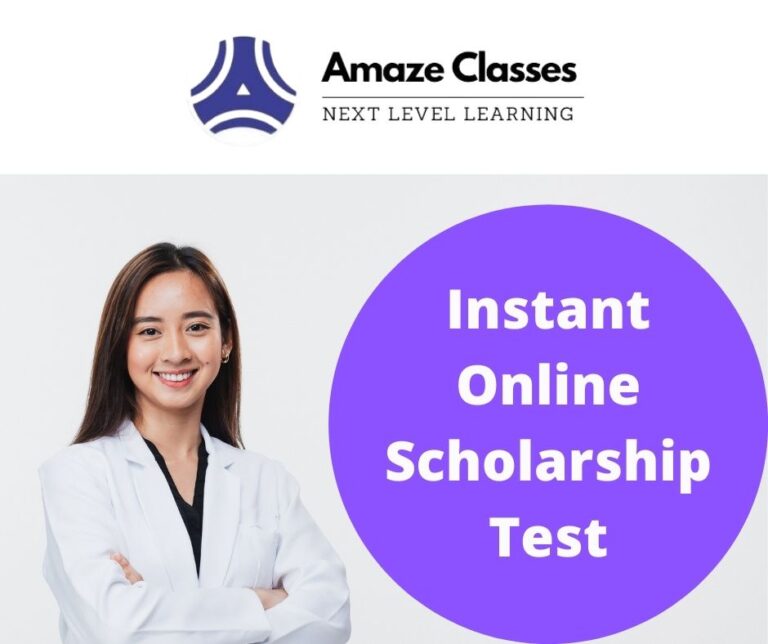 NEET SCHOLARSHIP TEST 2022 - Introduction
NEET SCHOLARSHIP TEST 2022 will evaluate a student's NEET-specific potential. The student's performance will be examined scientifically by comparing the question paper's difficulty level to historical data and then extrapolating to estimate the student's NEET score.

This may be the ideal beginning point for many of you who aspire to become doctors, as AIST (Amaze Instant Scholarship Test) will provide you with a road map to success in NEET.
Why must every NEET aspirant should attempt the NEET Scholarship Test 2022 ?
We will examine your performance on the exam by scientifically evaluating the question paper's difficulty level and mapping it with historical data, and then extrapolate to forecast your NEET score assuming you maintain your active learning speed and efforts.
By examining your strengths and flaws, your productivity will be illuminated. This will assist you in taking corrective action. All test-takers will also have the chance to review their results in depth at a customized Goal – based session, which will provide them with a road map for certain NEET success.
You will have the opportunity to participate with numerous students from demographic groups other than your own. This will provide an accurate image of what you must accomplish to pass the NEET.
No one recognizes excellence like Amaze. Students demonstrating superior performance will get awards. The top-performing students will receive monetary rewards (up to Rs 1 lac along with medal and certificates.
By enrolling in a Amaze NEET Program through AIST , students can get scholarships (up to 90% percent ).
In addition, a Amaze Medical student might win more than Rs 10.00 lac under the Excellent Student Policy of Amaze Classes.
As a special gift to students taking the AIST , the Amaze NEET Test Series will be provided at no cost, regardless of whether the student enrolls in the Amaze NEET programme or not.
More than 95% of our students meet NEET requirements. This unprecedented accomplishment by our students has inspired us to establish the successful guarantee challenge. If a student attends all of our classes, takes all of our examinations, and adheres to the stated standards, we guarantee the expected NEET Rank . Otherwise, we will teach the student for a second year at no cost will refund 100% of the payment.
Since the outset, Amaze NEET students have excelled in all national competitive examinations. Compared to the national average of less than 2%, more than 15% of our students have obtained an MBBS seat since the start of NEET.
The purpose of the NEET SCHOLARSHIP TEST 2022 is to honor the outstanding NEET aspirants by giving them the opportunity to receive Scholarships of up to 90% percent. Moreover, Amaze Classes has
lowest fee in the industry and that too on monthly basis, you need to pay in lumpsum or two or three installments, you can pay our fee after deducting applicable scholarship and discounts in ten monthly installments.
NEET SCHOLARSHIP TEST 2022

Please on the link below to attempt Amaze Instant Scholarship Test and avail upto 90% of scholarship in less than 2 hour
Please visit our other blogs
JEE
How to Study for the JEE Main in 2022 – Preparation contributes to success and necessitates a particular method. To gain admission to the prestigious
Read More »