I hope you are getting ready for the NEET exam and are looking for Animal Kingdom NEET Questions. In that case, you have come to the right place! Our collection of NEET questions on the Animal Kingdom is extensive. It is designed to assist you in understanding this important biology topic. Our questions cover the entire range of animal diversity, from simple organisms to complex creatures. Whether you are new to the subject and want to establish a solid foundation or are an experienced student looking to further your knowledge, these questions will be a valuable resource for you.
Embarking on the Journey with Animal Kingdom MCQs
NEET aspirants pursuing their dreams of a career in medicine should emphasize the importance of mastering the core principles of Animal Kingdom concepts. This emphasis is a critical step toward achieving success in the dedicated section of the NEET examination that focuses on this subject. The rationale behind this strategy is straightforward: a strong foundation in Animal Kingdom principles is the key to excelling in the test and increasing the likelihood of securing a coveted spot in medical or dental schools.
Comprehensive knowledge and deep comprehension of the fundamentals within the Animal Kingdom domain empower aspirants to tackle the diverse array of questions they'll encounter. This proficiency not only boosts their performance but also enhances their problem-solving skills. NEET, a highly competitive exam, demands a well-rounded understanding of the subject matter, and it's this thorough understanding that distinguishes successful candidates.
By prioritizing the core principles, NEET aspirants equip themselves with the tools to navigate the intricacies of the Animal Kingdom section. They not only excel in answering questions but also gain the confidence necessary to thrive under pressure. In summary, the path to success in the NEET examination begins with the mastery of Animal Kingdom NEET questions, paving the way for a bright future in the field of medicine.
Understanding the Basics of Animal Kingdom NEET MCQs
This section in question commonly inquires about the fundamental characteristics that define animals, and a comprehensive grasp of these attributes is pivotal for excelling in your NEET (National Eligibility-cum-Entrance Test) preparation. Multicellularity, heterotrophic nutrition, and the absence of cell walls are vital attributes that distinguish animals from other life forms.
First and foremost, multicellularity is a hallmark of the animal kingdom, with organisms typically composed of multiple specialized cells working in unison. This characteristic enables complex physiological functions and specialized structures, facilitating the diversity observed in the animal kingdom.
Heterotrophic nutrition which is another distinguishing feature, signifying that animals obtain their energy by consuming other organisms. Understanding the various modes of heterotrophic nutrition, including predation, herbivory, and parasitism, is critical to answering NEET questions accurately.
Furthermore, the absence of cell walls is a crucial trait that sets animals apart from plants and fungi. This lack of a rigid cell wall grants animals greater flexibility and mobility.
In conclusion, a thorough comprehension of these fundamental characteristics not only sets the foundation for your NEET exam success but also provides a deeper appreciation of the diverse and intricate world of animals. Mastery of these principles is indispensable for aspiring medical and biology students, as it forms the basis for more advanced concepts and applications in the field.
Delving into Animal Kingdom Class 11 while Exploring Animal Classification
A substantial segment of NEET questions related to the Animal Kingdom emphasize animal classification. In this context, aspirants are tasked with the classification of animals into various groups according to their distinguishing attributes. Proficiency in this area hinges on a profound understanding of the hierarchical classification system, which typically begins at the phylum level and descends through class, order, family, genus, and, ultimately, species.
A robust grasp of this taxonomic hierarchy is indispensable as it enables students to differentiate and categorize animals systematically. Such knowledge equips NEET candidates with the ability to navigate these questions with confidence and precision, thereby facilitating their success in this crucial segment of the examination.
Diving into Specific Phyla with Targeted Animal Kingdom MCQs for NEET
The NEET exam doesn't just focus on the broad classification of animals; it also delves into specific phyla like Porifera (sponges) and Cnidaria (jellyfish, corals, and sea anemones). Candidates can expect questions that assess their knowledge of these phyla's distinctive characteristics, body organization, and modes of reproduction.
For instance, understanding that Porifera exhibits a simple, porous body structure with unique choanocytes for filter-feeding and primarily reproduces asexually by fragmentation is vital. Similarly, comprehending the radial symmetry and stinging cells (nematocysts) of Cnidaria, along with their diverse reproductive strategies, including budding and sexual reproduction, is crucial. Being well-versed in these specific phyla equips NEET takers with the proficiency needed to excel in this exam segment, contributing to a comprehensive grasp of the Animal Kingdom NEET Questions.
Unveiling the World of Phylum Platyhelminthes and Phylum Nematoda through Animal Kingdom MCQs
In the context of Animal Kingdom, it's essential to be thoroughly prepared for inquiries concerning Phylum Platyhelminthes (flatworms) and Phylum Nematoda (roundworms). These questions often require a comprehensive understanding of the unique characteristics that set these phyla apart.
For Platyhelminthes, a key focus lies in their body structures. These flatworms display bilateral symmetry and dorsoventrally flattened bodies. They exhibit a simple digestive system with a single opening, serving both as a mouth and an anus. Additionally, they often possess a unique feature known as the flame cells, which function in excretion and osmoregulation. These fascinating traits are essential to tackle questions related to Platyhelminthes effectively.
Conversely, questions about Nematoda may delve into body structure and habitat preferences. Nematodes are characterized by their cylindrical, unsegmented bodies, and they boast a complete digestive system with a separate mouth and anus. Their resilient cuticle and hydrostatic skeleton enable a wide range of movement. Furthermore, understanding their habitat preferences, which often involve soil, aquatic environments, or even parasitic associations with plants and animals, is pivotal.
In conclusion, when facing Animal Kingdom NEET questions pertaining to Platyhelminthes and Nematoda, a deep comprehension of their body structures, digestive systems, and preferred habitats is the key to success. This knowledge not only aids in answering questions accurately but also fosters a more profound appreciation of the intricacies within the animal world.
Crucial Insights into Phylum Annelida and Phylum Arthropoda for Animal Kingdom NEET MCQ
Within the framework of Animal Kingdom, a firm understanding of Phylum Annelida and Phylum Arthropoda is essential. These phyla, encompassing segmented worms and a wide array of arthropods, hold great significance and are often the subject of detailed inquiry.
Phylum Annelida is characterized by segmented body organization. Each segment is equipped with its own set of vital organs and appendages. This segmentation is instrumental in questions relating to Annelida, as it enables a high degree of specialization within the organism. When it comes to locomotion, these creatures utilize a combination of circular and longitudinal muscles to execute a wave-like motion, facilitating their movement through aquatic and terrestrial environments.
Moving on to Phylum Arthropoda, which comprises insects, arachnids, and crustaceans, questions may scrutinize their intricate structures and diverse vital functions. The hallmark feature of arthropods is their exoskeleton, an external rigid covering that serves as both armor and support. This exoskeleton plays a pivotal role in protecting and maintaining body shape. Arthropods exhibit a remarkable variety of locomotion methods, from the six-legged scuttling of insects to the eight-legged grace of arachnids. Moreover, these creatures display highly specialized adaptations, such as wings for flight and complex sensory organs.
In conclusion, a comprehensive knowledge of Phylum Annelida and Phylum Arthropoda is indispensable for conquering Animal Kingdom NEET questions. Understanding their segmentation, modes of locomotion, and vital functions unveils the beauty of these diverse and resilient organisms while ensuring your success in this examination segment.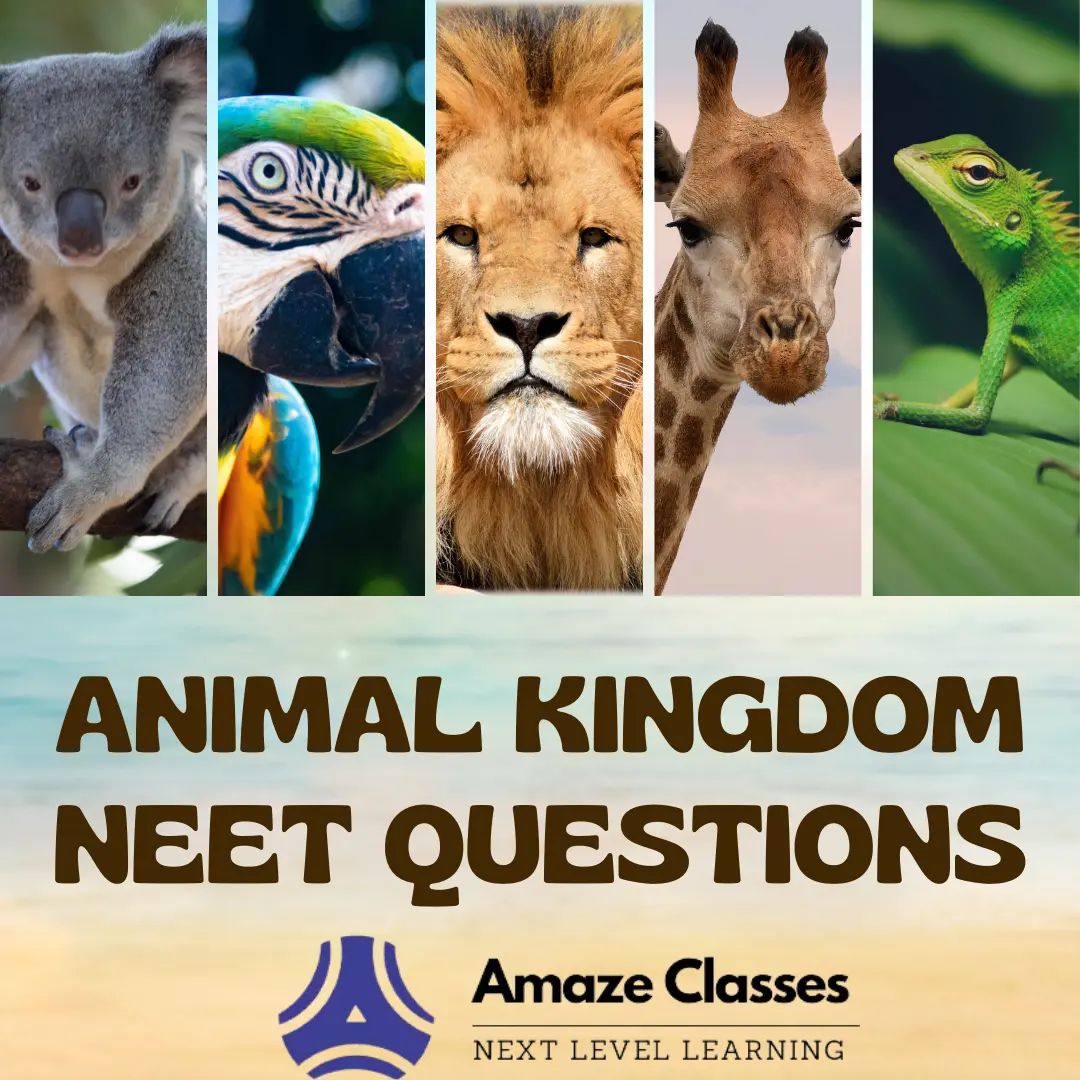 Exploring the Diversity of Phylum Annelida and Phylum Arthropoda with Insightful Animal Kingdom Class 11 MCQs

As you gear up for the formidable Animal Kingdom, it's paramount to direct your attention toward two more captivating phyla: Mollusca and Echinodermata. A profound understanding of these phyla's unique characteristics and adaptive traits is essential for comprehensive NEET preparation.
Phylum Mollusca, which encompasses snails, clams, and squids, presents a diverse array of features. Unifying these creatures is the presence of a soft body, often protected by a calcareous shell. Each class within this phylum possesses its distinctive adaptations. For instance, cephalopods like squids boast advanced nervous systems and complex eyes, whereas bivalves like clams excel in filter-feeding using gills. Snails, with their coiled shells, are known for their radula, a specialized feeding organ. Understanding these variances is vital when tackling NEET questions related to Mollusca.
Shifting focus to Phylum Echinodermata, the enigmatic members, including starfish and sea urchins, exhibit a unique feature – a water vascular system. This hydraulic network not only governs their locomotion through water-filled tube feet but also functions in gas exchange and excretion. Their pentaradial symmetry and spiny exoskeletons are distinguishing traits, reflecting their adaptation to marine environments.
To excel in your NEET preparation, delving deep into the exceptional attributes and adaptive features of Mollusca and Echinodermata is paramount. This not only enriches your knowledge of the animal kingdom but also positions you favorably in tackling Animal Kingdom NEET questions with confidence and accuracy.
Unveiling the Fascinating World of Phylum Chordata Through Comprehensive Animal Kingdom NEET Questions
Phylum Chordata holds a pivotal role that can't be understated. This diverse phylum encompasses an array of fascinating creatures, ranging from fishes to amphibians, reptiles, birds, and mammals, all sharing a standard set of distinguishing characteristics.
The defining hallmark of Chordates is the presence of a notochord, which acts as a flexible rod-like support structure during embryonic development. This notochord, in most cases, gets replaced by a vertebral column in vertebrates, a subphylum of Chordata. The evolution of this vertebral column represents a significant milestone in the evolutionary history of this phylum. Understanding this and the presence of a dorsal nerve cord, gill slits, and a post-anal tail in various Chordate groups is paramount for NEET questions.
Furthermore, these Chordates exhibit diverse adaptations, from the remarkable flight capabilities of birds to the unique mammalian characteristics such as mammary glands and hair. The various classes within Chordata each have their own distinctive traits and evolutionary journeys.
In your NEET preparation, be ready to field questions about these evolutionary tales, the essential characteristics, and the classification of Chordata. Your mastery of these fundamental concepts is necessary to comprehensively address Animal Kingdom NEET questions and unveil the fascinating tapestry of the animal kingdom's diversity.
Practical Preparation Tips for Mastering Animal Kingdom MCQs for NEET
Indeed, consistent practice is the cornerstone of adequate preparation for any challenging topic, including the Animal Kingdom in the context of NEET. To enhance your understanding and problem-solving skills, engaging in the following strategies is crucial:
Sample Questions

: Start by solving a wide variety of sample questions related to the Animal Kingdom. This will help you grasp the different aspects and complexities of the topic.

Previous Year Question Papers

: Working through last year's question papers offers insight into the type and format of questions commonly asked in the NEET exam. It helps you align your preparation with the actual test.

Mock Tests

: Participation in mock tests replicates the real exam conditions and allows you to assess your performance under time constraints. It's an excellent way to gauge your readiness and improve time management.

Identify Weaknesses

: Regular practice helps identify your weaker areas. Pay close attention to the questions that challenge you the most. Then, focus your efforts on improving your understanding of those specific concepts.

Review and Learn

: After solving questions, thoroughly review your answers, whether right or wrong. Understand the reasoning behind the correct answers and learn from your mistakes.

Time Management

: Practice will enable you to become more efficient in managing your time during the exam. Work on allocating the right amount of time to different sections and questions.

Consistency

: Make practice a daily routine to build a strong foundation and maintain steady progress.
By integrating these practices into your NEET preparation strategy, you'll not only become well-versed in the Animal Kingdom but also develop a robust problem-solving approach, increasing your chances of success on the actual exam day.
In summary, Animal Kingdom NEET questions play a significant role in the NEET examination, making a solid grasp of fundamental concepts and animal taxonomy essential. With dedicated study and consistent practice, you can approach this topic with confidence, laying a solid foundation for your future in the medical field. As you navigate the intricate world of animals and their diverse attributes, remember that your commitment to learning and preparation is the key to your success, both in the NEET exam and in your promising medical career. Stay focused, keep refining your knowledge, and you'll be well on your way to achieving your academic and professional aspirations.
Animal Kingdom NEET Questions Mock Test
Animal Kingdom NEET MCQ with Answer - Free Download