NEET Free Study Material - Class 11th
It will be a feat to acquire a medical seat among 1,61,269 available seats and 16 lakh competitors. Therefore, students should adhere to a strict yet effective schedule for reviewing their studies, particularly in the final month. Moreover, students should search multiple online resources for the top NEET 2022 preparation materials. Check our NEET 2022 Revision Plan to increase your knowledge.
Before taking the NEET exam, students must have one month to review their course material. Candidates should maximize their use of this time. In addition to taking practice exams, students must follow the advice of specialists. To collect the necessary NEET Free study material for the NEET examination is very easy but to take its maximum benefit, it is very tough which requires utmost level of dedication from the students. Additionally, candidates can view several online video lectures for NEET 2022. Students should treat NCERT their foundational text. Read the book carefully to have an in-depth understanding of the topics' concepts. Avoid panicking when selecting reference books. You should not accumulate many books. You should be specific when selecting the greatest reference books. Choose your reference books such that they contain a large number of solved and unsolved practice papers.
Consider Your Notes as Scripture.
Before beginning your preparations, you should create suitable and effective lecture notes to build the students' confidence. Consequently, you should carefully record the pertinent information you have gleaned from class. Using the notes, you can clarify your understanding of foundational subjects in an appropriate manner. Once the candidates have mastered the fundamental ideas, they can expand their knowledge.
Download and answer the NEET Question Papers from Prior Years
After finishing their curriculum, students should complete NEET question papers from previous years in order to comprehend the relative importance of the topics and recognize the question formats. If you solve it frequently, you will gain insight into your strengths and limitations and will be able to adjust your preparation accordingly.
Create a Chart and Guide for Critical Formulas
It will be impossible for you to memorize the essential formulas unless you create a chart or guidebook. Therefore, candidates should compile a handbook including formulas in order to swiftly review the large curriculum. In addition, you can read the essential formulas from the manual before entering the exam room.
Online Exam Series and Online Lessons
To reinforce their understanding, applicants should utilize NEET Free Study Materials. Students can, for instance, monitor subject-specific preparation, significant lectures, and their advice. Therefore, individuals have the option of attending classes online. On the other side, you can also find answers to your questions since there are several online resources available. Similarly, candidates might glean as much information as possible from an abundance of web resources. In addition, there are ways to take free practice exams that are available on the Amaze website. However, you must first complete your syllabus. In addition, you can enroll to Free Online Test Series to prepare for the NEET 2022 exam.
Create Brief Notes for Preparation
It is prudent to take brief notes. In turn, it will assist you in revising your lesson. The brief notes will provide concise summaries, crucial formulas, and key subjects so that you can manage yourself during review. Brief notes are useful, especially during the final days of an examination.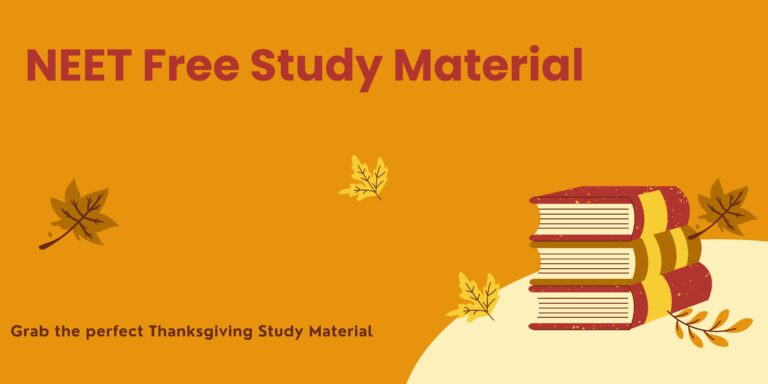 NEET Free Study Material - Reviews
Satwinder Singh
10+1 Medical
Excellent Study Material for Biology. Only Institute offering Free Doubt Sessions. Basic to Intermediate, somewhat advanced concepts missing but more than enough, if you are getting it at no cost
The Study Material is more than enough for board exams. You can get good marks only by following this material and by attempting test series and practice papers..
Who says NEET Free Study Material is worthless. Explore the material given on Amaze and experience yourself. Right from Basic to Advanced, everything is free..