Best NEET Coaching in Chandigarh
Please share your details and we will call you back.
At Amaze, coaching excellence is our first priority. The methodology at Amaze is intended to enable students excel by exposing them to new teaching methods and a competitive setting that attempts to improve their performance under pressure. These programmes also help students prepare for State Boards/CBSE/ICSE or any other Junior Competitive Examinations including NTSE, KVPY, and Olympiads. In addition, Amaze's teaching technique emphasizes conceptual understanding and application-based questions.
The Best NEET Coaching in Chandigarh – Standardized Content and Training Methods, as well as Qualified Instructors

The Best NEET Coaching in Chandigarh: Our National Academic Team oversees a coordinated internal procedure for course and content creation, teacher training, and monitoring. This unified procedure enables us to maintain uniform teaching quality and delivery across all of our learning channels. Through assessment and testing, our Academic Delivery Model seeks to expand our students' fundamental knowledge and increase their accuracy and speed. Our environment is competitive and our students receive individualized attention, which enables us to evaluate their performance. We also concentrate on the upliftment of our students through variety of activities such as proper counselling, motivational sessions, and the conduct of regular student/parent-teacher meetings, with the goal of assisting them in coping with Exam pressure, reducing stress levels, and acquiring time management skills. 
Our course and content include theoretically-based questions with demonstrative examples. Based on student achievement and staff and student feedback, we annually analyze, develop, and upgrade our course content through a centralised approach, ensuring that our curriculum and content are of the highest quality.
The Best NEET Coaching in Chandigarh: Exams and Evaluations
The Best NEET Coaching in Chandigarh: A series of tests and exams are taken at frequent basis for each of our programs at our Amaze Centres in order to assess our NEET aspirants and prepare them for CBSE/State Boards/ICSE and other Competitive Examinations. We have devised a "Test Series" consisting of biweekly assessments and term Examinations.
We occasionally evaluate the Amaze Test Series of NEET students , in accordance with the school's examination structure.
In addition to the NTSE / Olympiad examinations performed in accordance with the Examinations' schedule, we also conduct periodic tests, Surprise Tests and Mock Tests for students enrolled in Amaze. Some Students have given some unique names to the Amaze Test Series like NEET (Mains) and NEET (Advanced). It is a popular myth among the students that if you score 50% in Amaze NEET (Advanced) test series, you can crack NEET easily.
The question papers for the Assessments of various courses are composed in conformity with the Examination standards specified by the respective Authorities overseeing these courses. After each examination, we offer our students with a printed sample answer sheet and the marking scheme, which explains any queries they may have about the various questions asked. In order to provide our Medical and Engineering students with a realistic experience that will assist improve their confidence, we also administer simulated examinations in the same manner as the various Board Examinations. Such questions also emphasize the frequently updated NEET and JEE examination formats, such that our students are conversant with the Examination formats and styles. Depending on the periodicity of the Examinations, we set new questions and administer National Assessment Examinations in order to prepare our students.
The Best NEET Coaching in Chandigarh: Amaze Instant Scholarship Test
The Best NEET Coaching in Chandigarh: We offer AIST (Amaze Instant Scholarship Test) in order to identify and cultivate talent. The AIST is normally given on weekends, as scheduled, for students in Grades 10 through 12.  We grant scholarships of upto 90% with AIST to eligible candidates to enroll in our programmes.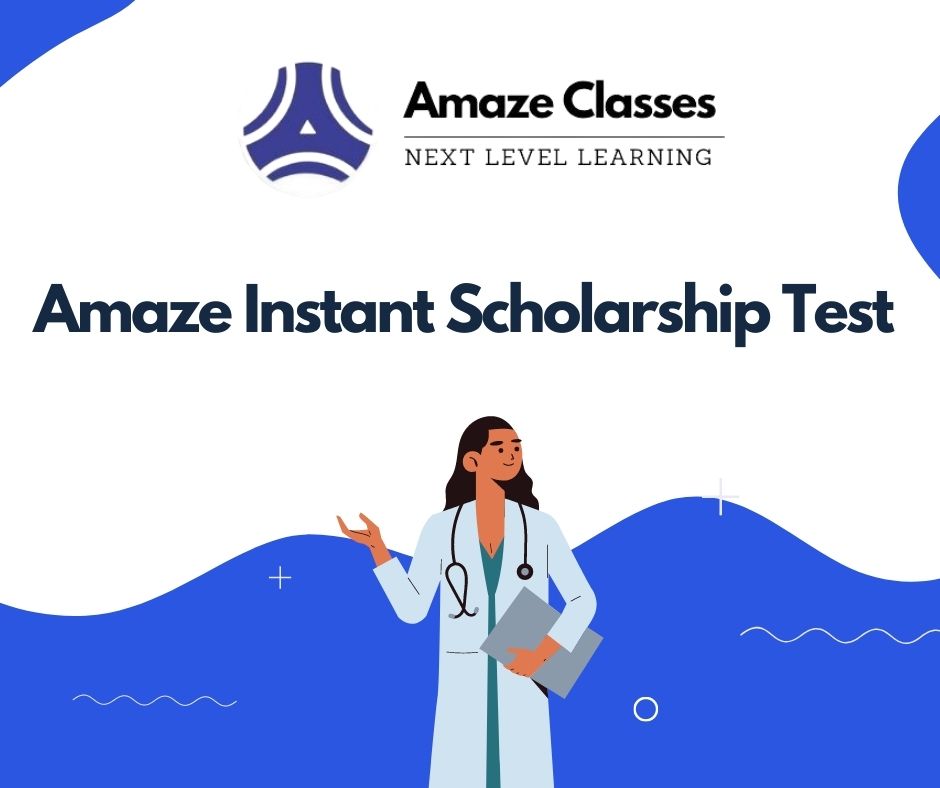 The Best NEET Coaching in Chandigarh: Amaze Test Series
The ATS (Amaze Test Series) is open for all and all the students from Class 10th to Class 12th can test his/her knowledge on a national scale. The uniqueness of this Test Series is that it is backed with Artificial Intelligence and our system automatically analyses in which topic the student is weak. The system will automatically ask questions related to weak topic only. The system will follow this until the student achieves more than 90% in that topic. The purpose of the test papers designed by Amaze faculty members is to prepare students adequately for the real Entrance Exams and allow them to compare their performance to that of other students. These assessments also assist us in identifying and recruiting Class 11 and 12 students with the ability to score well and choose their preferred Medical or Engineering course.
Please visit our other blogs